Information Technology (IT) equipment is often the foundation of many businesses, from manufacturing and engineering to e-commerce. From factories to office-based, organisations hugely depend on IT equipment to support day-to-day activities and operations.
With such reliance on IT assets, unplanned downtime, outages and breakages can cause overwhelming setbacks for businesses, resulting in loss of productivity, growth and profitability.
More often than not, IT equipment is a considerable investment; whether a start-up or a well-established business, you must maximise the equipment for all they are worth, following a strategic equipment life cycle for guaranteed return-on-investment (ROI) and long-lasting performance.
What is an equipment lifecycle?
An "equipment lifecycle" consists of four phases: planning, procurement/acquisition, operation/maintenance and disposal. Each stage is critical in supporting the longevity and performance of an IT asset, and the same goes for any tools or large-scale machinery.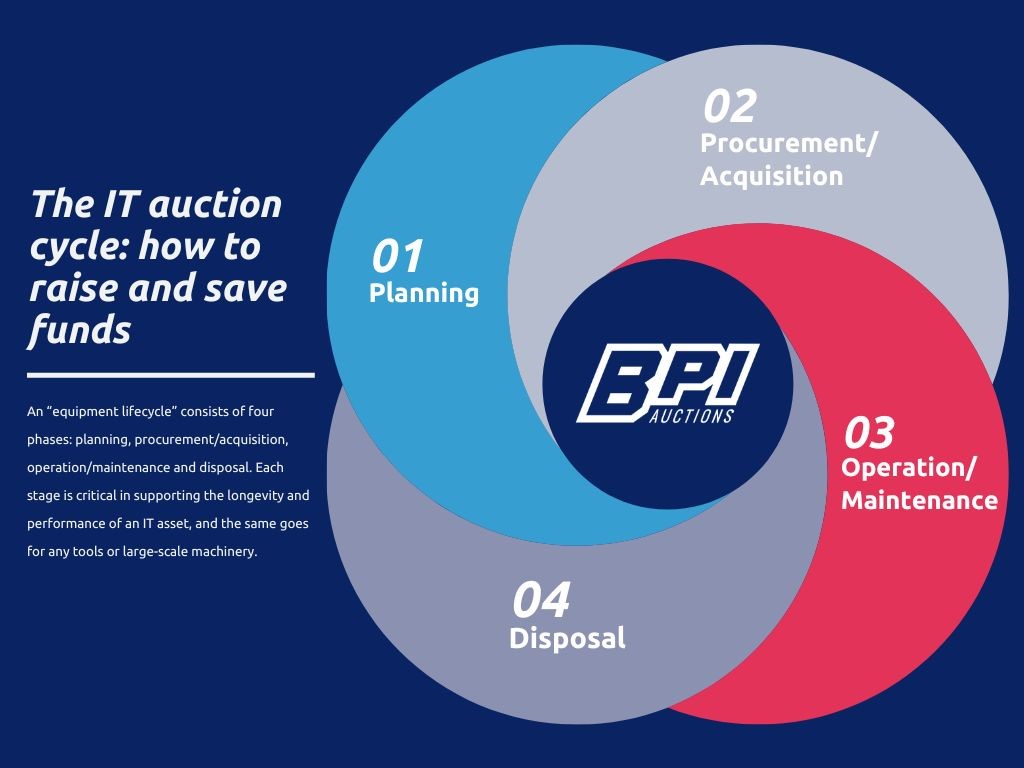 Before replacing or acquiring a new piece of equipment, you should plan to assess your business needs and determine the most cost-effective strategy for procuring a new asset. Decide whether you want to purchase brand-new equipment or second-hand equipment from a well-experienced auction house.
Procurement/Acquisition
Choosing which qualities you want to prioritise will help simplify the decision process. The essential qualities to look out for are price, longevity, user experience and customer support services.Once you have researched, planned a budget for the asset and negotiated costs to ensure the purchase is as cost-effective as possible, you will be ready to purchase the IT asset.
Operation/Maintenance
The operation and maintenance stage is the longest stage of the IT equipment lifecycle. This means using the asset for its intended purpose and maintaining an asset to support its performance over time.By monitoring regular performance and equipment quality reviews, you will be able to spot any problems, lack of use and needs for replacement.
Disposal
The final stage involves appropriately disposing of the asset by following certain environmental and safety regulations. You must safely dismantle and dispose of the asset while adhering to industry regulations to reduce accidents/hazards.
If you are disposing of IT assets due to an upgrade or close of business, using a credible auction house is the perfect way to raise additional funds and make room for upgraded machinery and equipment.
Businesses across the UK have been heavily impacted by significant inflation and supply chain challenges as a domino effect of the COVID-19 pandemic. However, most businesses will have unused IT assets on their premises they could turn into capital or don't realise they can find high-quality second-hand IT equipment at just a fraction of the price.
You can save thousands by investing in used equipment rather than similar models that retail at a high cost, brand new.
More often than not, our auctions contain multiple lots from the same company selling off their office assets, which end up providing items they wouldn't have previously thought of. You can construct an excellent quality, highly reliable IT infrastructure from second-hand technology, many of which appear regularly in auctions. Check out our current lots available here.
If you're restructuring your business and need to dispose of IT assets, our clients benefit from unrivalled turnaround times, free marketing strategy and specialist account managers within your market sector.
Sell IT and Office equipment here, or contact our friendly professionals today to find out how we can help you!